Mexican Chipotle Birria Beef Tacos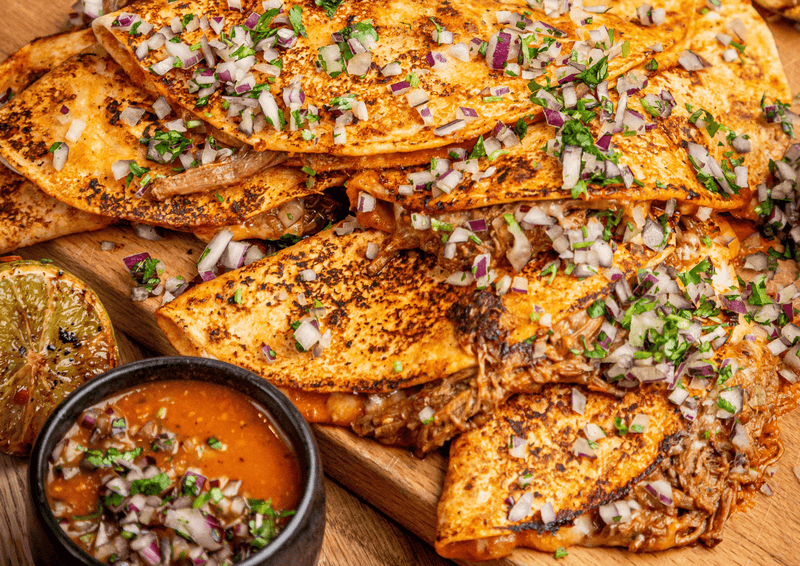 Description
For the Birria Beef:
- OMG Mexican Chipotle
- 1kg beef brisket
- 2-3 dried ancho chilies
- 2-3 dried guajillo chilies
- 1 small onion, chopped
- 4 cloves garlic, minced
- 2 teaspoons ground cumin
- 1 teaspoon dried oregano
- 1 teaspoon ground coriander
- 1/2 teaspoon ground cloves
- Salt and black pepper to taste
- 4 cups beef broth
- 2 bay leaves
For Assembling Tacos:
- Corn tortillas
- Chopped fresh cilantro
- Diced onions
- Lime wedges
- Shredded cheese
- OMG Mexican Chipotle
timing
≈ 6 Hours
INSTRUCTIONS
Prepare the Chilies:
Remove the stems and seeds from the dried chilies. Toast them in a dry skillet over medium heat for a few seconds on each side until they become fragrant. Place them in a bowl and cover with hot water. Let them soak for about 15-20 minutes to soften.
Make the Birria Sauce:
In a blender, combine the soaked chilies, chopped onion, minced garlic, ground cumin, dried oregano, ground coriander, ground cloves, salt, black pepper, and about 1 cup of beef broth. Blend until you have a smooth, thick sauce.
Prepare the Beef:
Cut the beef into chunks and season with salt and black pepper. In a large pot or Dutch oven, heat a little oil over medium-high heat. Sear the beef chunks on all sides until they are browned. Remove the beef from the pot and set it aside.
Cook the Birria:
In the same pot, add the birria sauce from the blender. Cook it for a few minutes, stirring constantly. Then return the seared beef to the pot.
Add the Remaining Ingredients:
Pour in the remaining beef broth and bay leaves. Bring the mixture to a simmer. Reduce the heat, cover the pot, and let it cook for about 2 to 3 hours, or until the beef is tender and can be easily shredded with a fork. Stir occasionally.
Shred the Beef:
Once the beef is tender, remove it from the pot and shred it using two forks. Return the shredded beef to the pot and add OMG Mexican Chipotle. Simmer for an additional 20-30 minutes to absorb more flavour.
Assemble the Tacos:
Warm the corn tortillas. Place a spoonful of the birria beef onto each tortilla. Top with chopped fresh cilantro, diced onions, and a sprinkle of shredded cheese. Serve with lime wedges and salsa.