Carolina Reaper Chilli Beef Nachos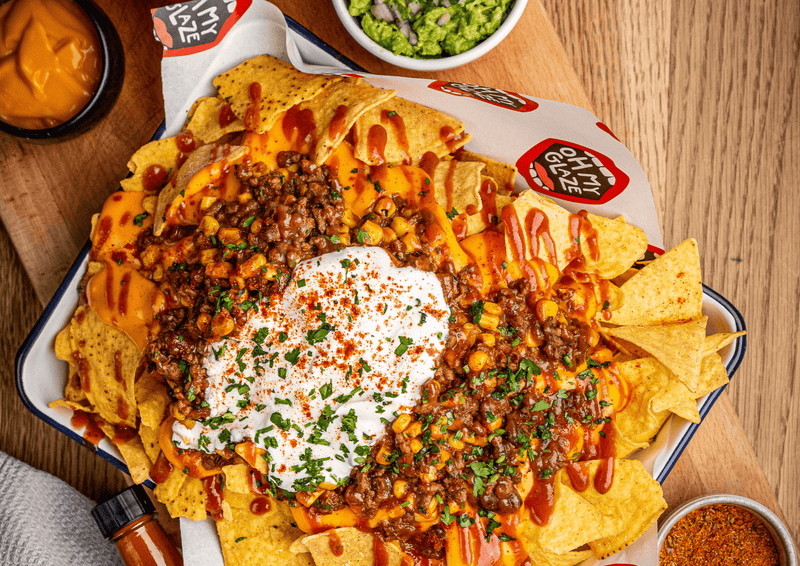 Description
For the chili beef:
- 450g ground beef
- 1 small onion, finely chopped
- 2 cloves garlic, minced
- 1 packet of chili seasoning mix
- 1 can diced tomatoes
- 1 can red kidney beans, drained and rinsed
- 1 can sweetcorn
- Salt and pepper to taste
- 2 tablespoons vegetable oil
For the nachos:
- OMG Carolina Reaper
- 1 large bag of tortilla chips
- 2 cups shredded cheddar or Monterey Jack cheese
- 1/2 cup pickled jalapeño slices
- 1/2 cup sour cream
- 1/2 cup guacamole
- 1/4 cup chopped fresh coriander
- 1/4 cup diced red onion
timing
≈ 20 Mins
INSTRUCTIONS
Prepare the Chili Beef
In a large skillet, heat the vegetable oil over medium-high heat. Add the chopped onion and garlic and sauté for a few minutes until they become translucent.
Add the ground beef and cook until it's browned and crumbled. Drain any excess fat if necessary.
Stir in the chili seasoning mix, diced tomatoes, sweetcorn and kidney beans. Cook for a few minutes until the mixture is heated through and slightly thickened. Season with salt and pepper to taste.
Assemble the Nachos:
Preheat your oven to 350°F (175°C).

Layer the Nachos:
On a large ovenproof platter or baking sheet, spread out a layer of tortilla chips. Top with a portion of the chili beef mixture and a generous amount of shredded cheese. Repeat this layering until you've used all the chips and beef, finishing with a layer of cheese on top.
Bake the Nachos:
Place the loaded nachos in the preheated oven and bake for about 10-15 minutes, or until the cheese is melted and bubbly.
Add Toppings:
Once the nachos are out of the oven, sprinkle the pickled jalapeño slices, diced red onion, and chopped coriander over the top.
Serve:
Serve the loaded chili beef nachos while they are hot. Drizzle OMG Carolina Reaper over the nachos. You can also add dollops of sour cream and guacamole on top or serve them as dipping sauces on the side.