Cajun Maple BBQ Pulled Pork Sliders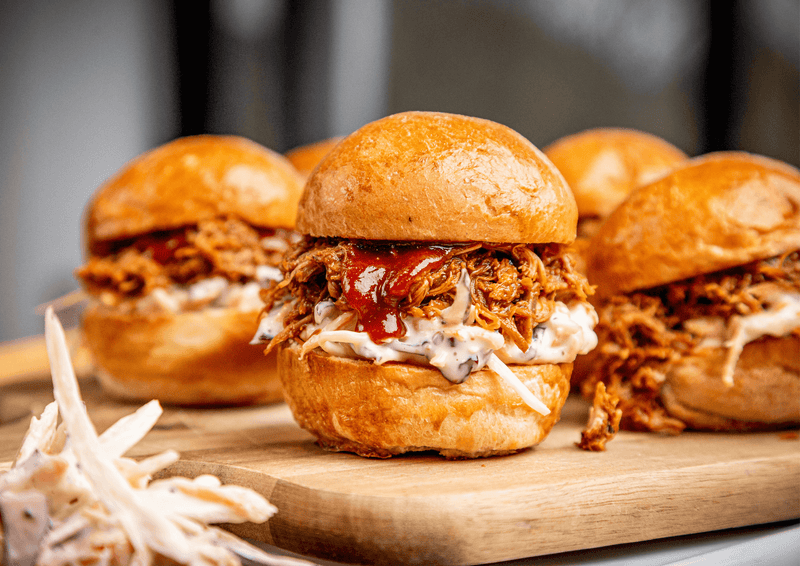 Description
For the Pulled Pork:
- 1/2 cup OMG Cajun Maple
- 1.8 kg pork shoulder
- 2 tablespoons olive oil
- 2 tablespoons paprika
- 1 tablespoon brown sugar
- 1 tablespoon chili powder
- 1 teaspoon garlic powder
- 1 teaspoon onion powder
- 1 teaspoon cayenne pepper (adjust to your heat preference)
- Salt and black pepper to taste
- 1 cup chicken or vegetable broth
- 1/2 cup apple cider vinegar
For the Sliders:
- Mini slider buns or rolls
- Coleslaw (optional)
timing
≈ 6 Hours
INSTRUCTIONS
Prep the Pork:
In a small bowl, mix together the paprika, brown sugar, chili powder, garlic powder, onion powder, cayenne pepper, salt, and black pepper. This will be your dry rub for the pork.
Rub the Pork:
Rub the dry spice mixture all over the pork shoulder, ensuring it's well coated. Let it sit for at least 30 minutes to allow the Flavours to infuse. For even better flavour, you can refrigerate the rubbed meat for several hours or overnight.
Sear the Pork:
In a large skillet or Dutch oven, heat the olive oil over medium-high heat. Sear the pork on all sides until it's nicely browned.
Slow Cook the Pork:
Transfer the seared pork to a slow cooker. Pour in the chicken or vegetable broth and apple cider vinegar. Cover and cook on low for 6-8 hours or until the pork is tender and easily shreds with a fork.
Shred the Pork:
Once the pork is done, remove it from the slow cooker and shred it using two forks. Discard any excess fat. You can also strain the cooking liquid and mix a little back into the pulled pork for added flavour and moisture.
Add OMG Cajun Maple BBQ:
Place the shredded pork back into the slow cooker and mix in the OMG Cajun Maple BBQ. Allow it to warm through for about 15-30 minutes.
Assemble the Sliders:
Slice the slider buns or rolls in half. Place a generous portion of the pulled pork onto the bottom half of each bun. Top with coleslaw. Place the top half of the bun on the pork to make a slider.
Serve:
Serve your pulled pork sliders hot. You can serve them with extra OMG Cajun Maple BBQ on the side for dipping if you like.
Pulled pork sliders are perfect for parties, barbecues, or as a casual meal. Enjoy these flavourful and tender little sandwiches!